The Oak Ridges Moraine Groundwater Program (ORMGP) maintains an authoritative understanding of:
the geological layering for the area;
the groundwater flow system; and
its linkage to the region's surface waters and climatologies.
The ORMGP has the need to:
coordinate disparate datasets so that correlation among environmental phenomena can be investigated
data are sourced primarily from open datasets and are ingested into our database
by virtue of being in our database, web applications allowing users to analyze the data become available
this is a system of delivering information needed for water resources and planning.
The following is an index to the data maintained and produced by the ORMGP. All data can be cited by a link below.
Data Sources
The ORMGP data systems described below are active, in that they are automatically updated at near real-time. From hourly and daily intervals, a series of "web-scraper" routines have been written to access open data made available from many sources including international, federal, provincial, municipal and conservation authority agencies. The objective is to "centralize" hydrogeological data for the south-central Ontario (Canada) jurisdiction that currently makes-up the ORMGP. Data sources: more details.
Geology
Hydrogeology
Locations with >35 monitoring dates
Drainage and Topology
Sub-watershed characterization and flow topology
Climatology
Near-realtime Data acquisition, updated nightly, including:

Daily data

Min/max daily temperature
Atmospheric pressure
Precipitation (rainfall and snowfall)
Snowmelt (sourced and computed)
Potential evaporation (computed)

Hourly data, updated every 6-hours, including:

Air temperature
Atmospheric pressure
Relative humidity
Windspeed and direction
Potential evaporation flux
Web Applications
Geocortex data portal
The ORMGP Geocortex Mapping hub has been divided into various Theme Maps to allow users to quickly hone in on the information they might be seeking. For example, the Documents Theme Map provides access to the program's library of reports, The Boreholes Theme Map focuses on providing access to borehole specific information, and the Geology Theme Map provides access to all of the ORMGP geologically related mapping. The Theme Maps group specific related data sets or interpreted products (more info here).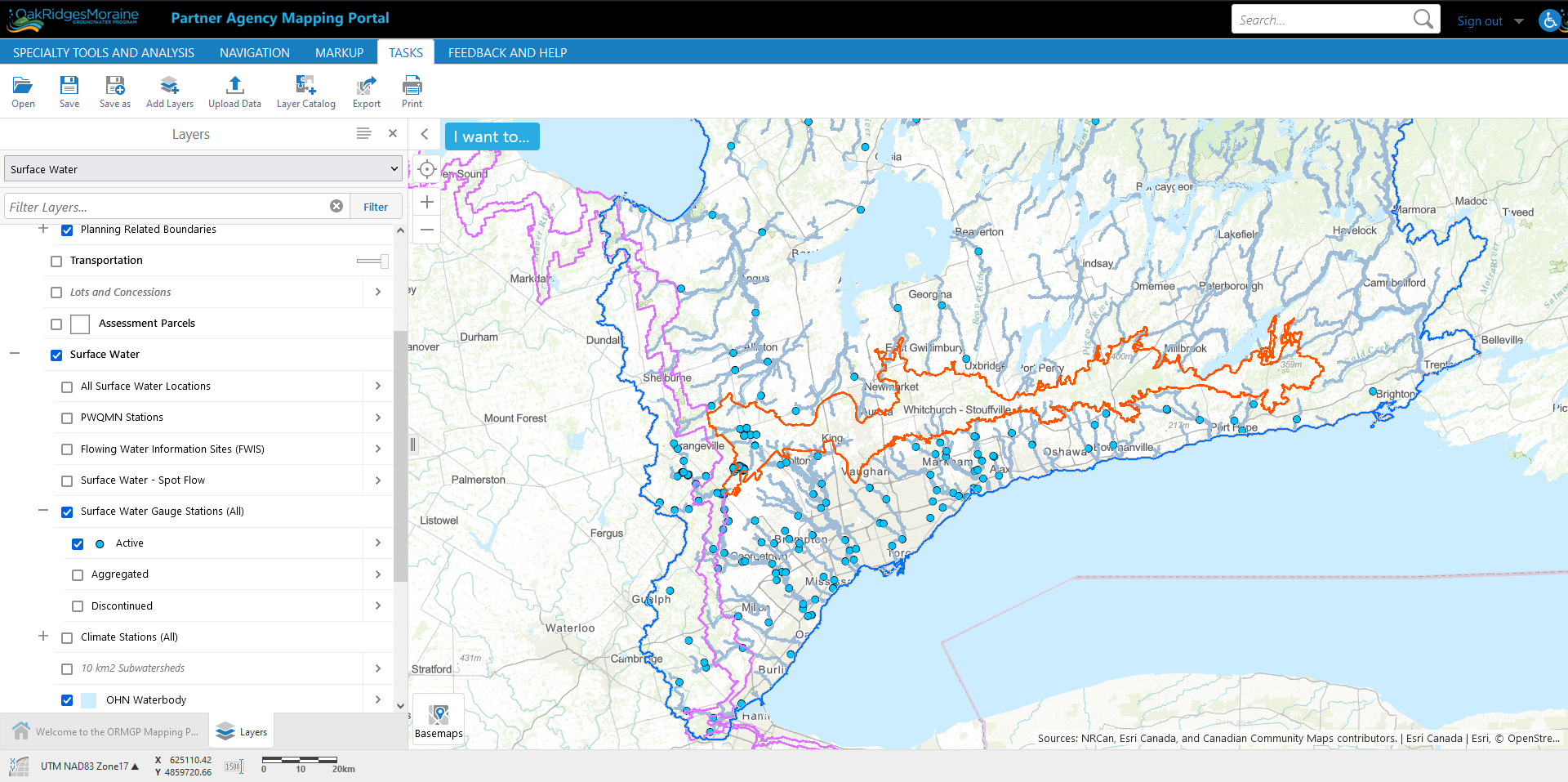 Our current web-mapping system relies on Geocortex
our main web mapping system
R-Shiny-Leaflet mapping with access to our monitoring dataset.
Timeseries analysis
Open Data Products
Metadata
Our metadata repository, Table of Contents.
Geospatial Layers
Static 2D fields, updated frequently
Bedrock
Hydro-stratigraphic units.
Land use, including:

impervious cover
canopy cover
wetland cover
open water
relative permeability
Clip 'n Ship
"Clip 'n Ship" — A bulk spatial data export system, by geographic extent. Includes many of the products listed below.
Spatially interpolated, near real-time data
Distributed time-series data, updated nightly
Numerical Modelling
Numerical modelling are applied in two ways:
The first is a long-term data assimilation system that utilizes hydrological analysis tools (i.e., models) and leverages the ORMGP's database. What amounts to data assimilation system (DAS) utilized modelling technology to provide real-time interpolation of the hydrological system, data we have access to. The computational structure of the DAS is specifically tailored to run as fast as possible, such that thousands of model "projections" made continuously on ORMGP servers. The results from this analysis will likely be offered as monthly ranges in long term seasonal water balance estimates.
Other tools are intended for predictive use, but are restricted to short-term (less than 30 days) projections. The design of these models is more physically rigorous but will always be dependent on other models (existing groundwater models or the DAS described here) to prescribe the antecedent conditions. While computational time for this model is orders of magnitudes greater than that of the DAS, it continuous to share the philosophy of designed whereby computation efficiency is paramount.
Combined, these two tools will provide all water groundwater resources needs for the ORMGP partners in order to:
utilize readily available datasets provided daily by government agencies of Canada and the United States without the need for data pre-processing
capture long-term hydrological water budget estimates with an emphasis on its certainty
project near-term hydrological response given a known antecedent state
Existing numerical model files, output and sharing
Set of numerical models maintained in the custodianship program
Regional Water Budget, Long-term and Continuous
Short-term/event-based hydrology
Lateral water movement: a local inertial approximation of the shallow water equation for lateral movement of water.
Multiphase flow through porous media: a one-dimensional fully-implicit multi-layer solution to multi-phase flow through porous media used to investigate infiltration, evaporation and runoff generation.
Other
Technologies
A number of open-source and proprietary data analysis tools have been employed in our overall data management system. In contribution to the open-source community, much of our work has also left open on our Github.
Tools (external links)
Github pages — the hosting of technical information, like what you see now.
Python
FORTRAN/C++
VB.NET/C#
Databases (external links)
ORMGP Servers
Databases and APIs
VertiGIS Studio/Geocortex — Our principle web mapping server used by partners to access our database and products.
golang server — multi-functional REST API serving a variety of data products and interpolation tools.
fews server — home for the ORMGP-FEWS data management system.
Web scraping
Glossary